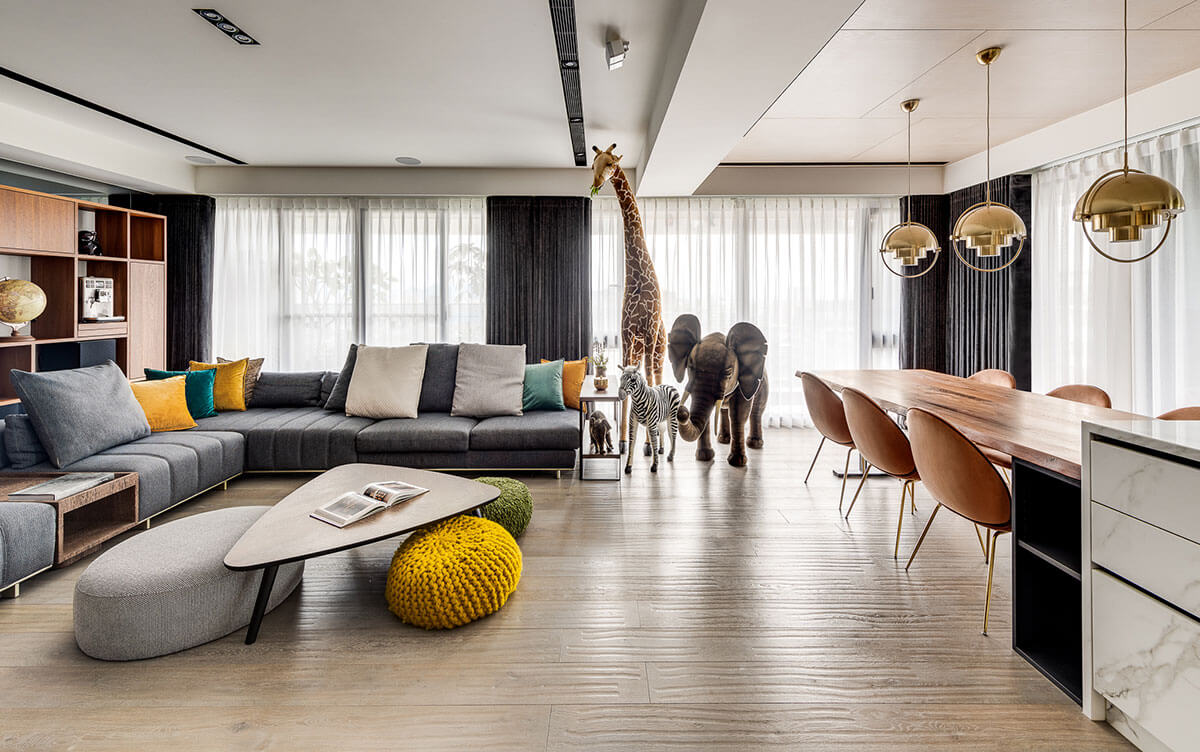 全宅雖擁有絕佳的視野與採光照明、格局十分方正,但卻有許多樑柱在貫穿頂上,樓板到天花板的高度即使高達330公分的距離,但我們將天花板的最低點設定在240公分、最高點270公分,不刻意以挑高方式處理,讓高低差能縮小在30公分之內,減少空間的反差感,客廳與餐廳能在一個平面之上,家人們的互動能完全開放。
The house has excellent horizons, day lighting and layout, yet there are beams on the ceiling. The height distance from the floor to the ceiling is 330 cm, however the designer choose to set the lowest point of the ceiling at 240 cm and the highest point at 270 cm, not deliberately elevate the ceiling, keep the height difference within 30 cm. So that the living room and dining room can be at the same flatness, which reduce the spatial discrepancy, thus bring about a capacious interactive space.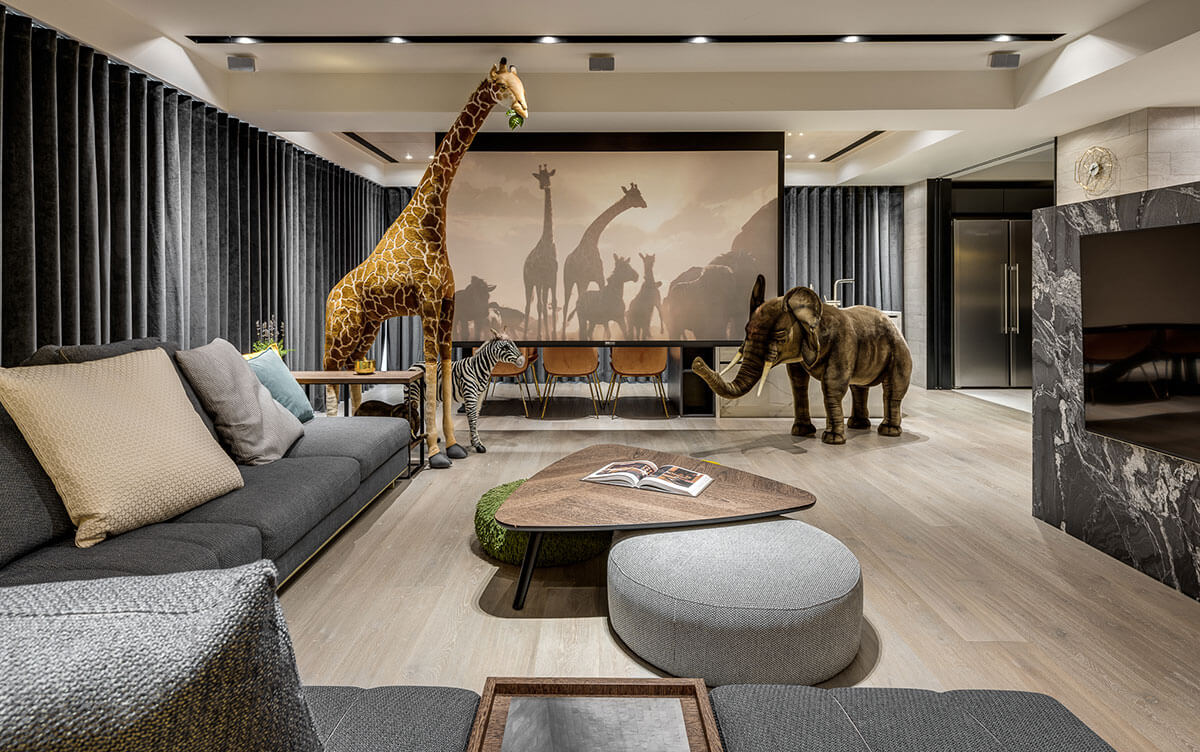 重視家庭活動的一家人,在公領域的時間很長,所以我們讓電視牆與投影布幕並行於客廳。L型沙發的設定將客廳的每一面都達到有效應用,投影幕拉下、音響加持,便有著來到小型電影院的感覺;半高的電視牆面我們故意不以正核心對稱處理,在經過多次的比例運算後,偏離軸心反而能有更好的視覺效果。
The family members who value family activities spend a great deal of time together in the public area. Accordingly set up both TV wall and projection curtain in the living room. While sitting on the L-shaped sofa, may enjoy every side of the living room. As soon as the projection curtain pull down and turn on the audio equipment, thence feel like being in a small cinema. The half-height TV wall is deliberately not erected in the center of the living room; the reason is that after many times of proportional calculation, it will have a better visual effect if it departs from the center.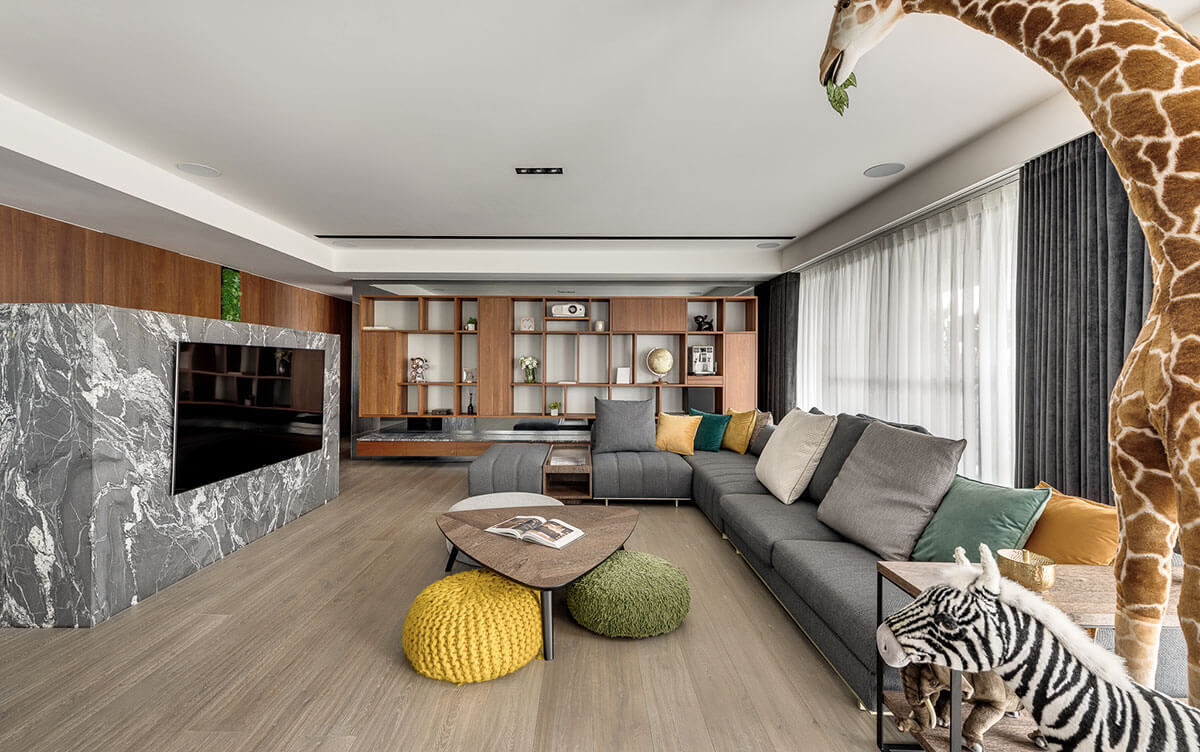 聊天過程中,發現屋主對柚木深深喜愛,我們大量將這個元素應用其中,但考量到柚木的粗獷感必需要有足夠的光源輔助,我們讓整個空間以低彩度呈現,利用最大的光線折射,把光線順利的從窗外引入。為避免色調過於沈悶,植栽牆及軟件特別使用鮮豔的顏色做跳色處理,加深空間的趣味感及生命力。
Employ teak as the majority element, which is deeply fond of the homeowner. However, considering the unpolished texture of teak, light is relative important. Accordingly, setting the whole space of softer, less saturated feel. And smoothly introduced the outdoor light via refraction. In order to avoid the heaviness tinge, erect a part of green wall and select bright hue software to do color jump processing, deepening the sense of delight and vitality of space.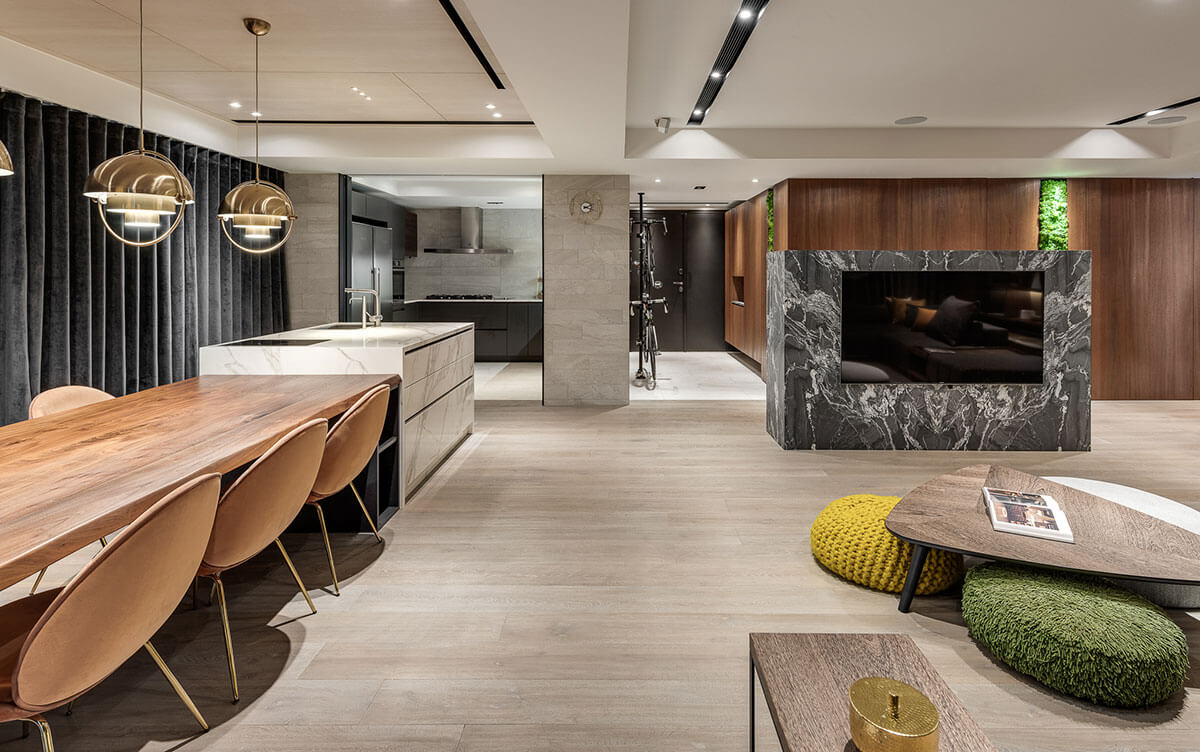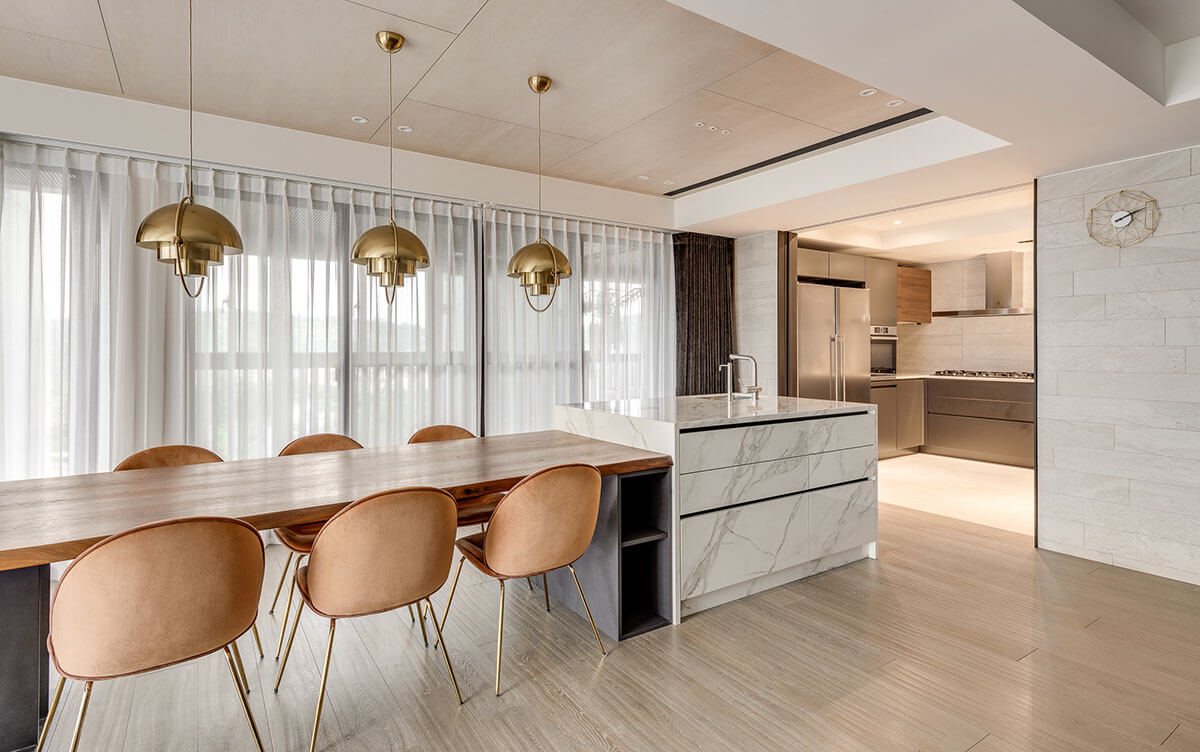 家是孩子們的遊樂場,站在這樣的立基點之下,我們一直很強調整體空間的開闊感。除此之外,父母的空間也是非常重要的部分,熱愛烘焙的媽媽一直想要擁有能與朋友共同烹飪的廚房,白色大理石中島便是特別為她設計的空間,能一邊做著自己喜歡的事情、一邊與最愛的家人互動,是多麼幸福的一件事情。
Holding on the viewpoint that home is children's playground, therefore stress on the importance of the capacious space. In addition, a specific zone for parents is also essential. The mother is fond of baking, who wishes to have a kitchen that can enjoy cook time with her friends, thereupon particularly construct a white marble island for her. The happiest thing is no more than that while interacting with the loving family can also enjoy doing of interest!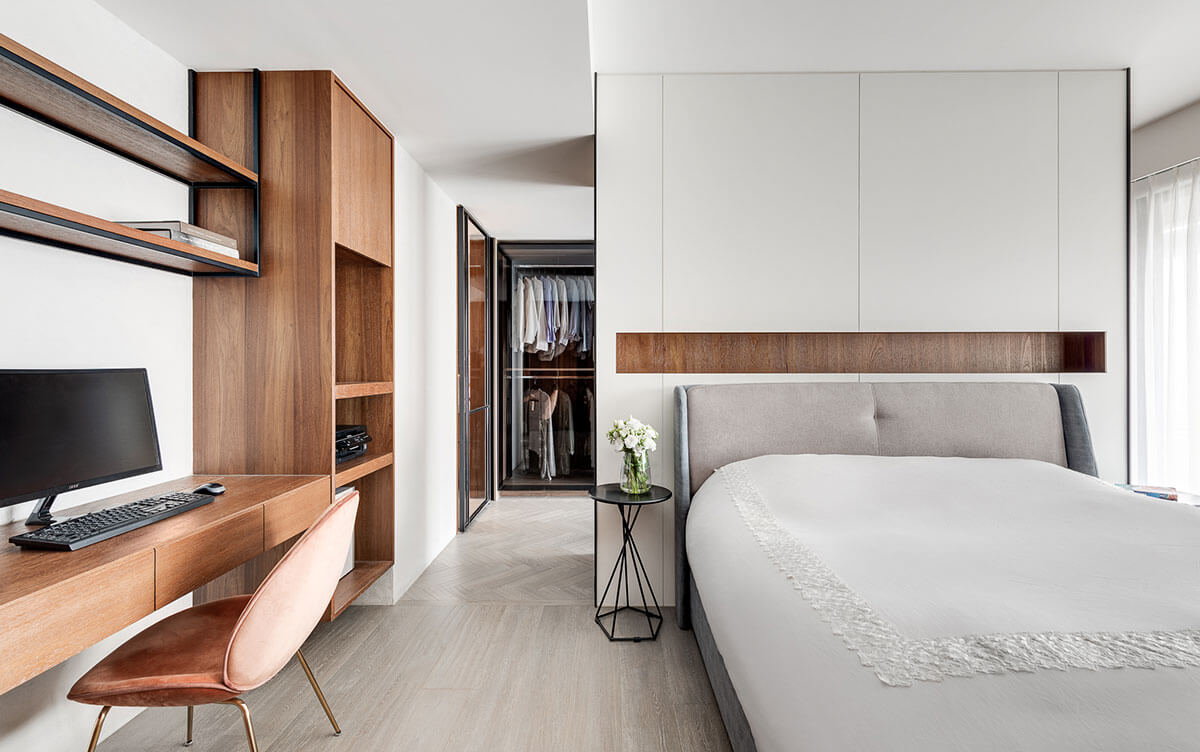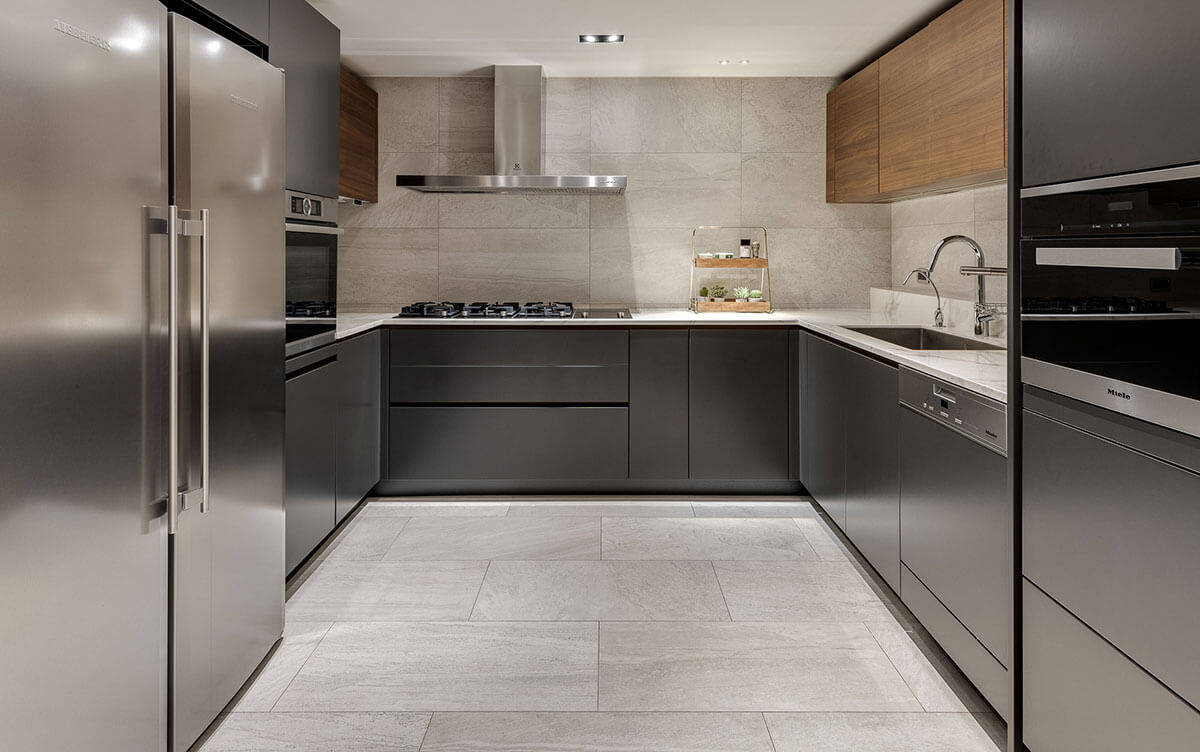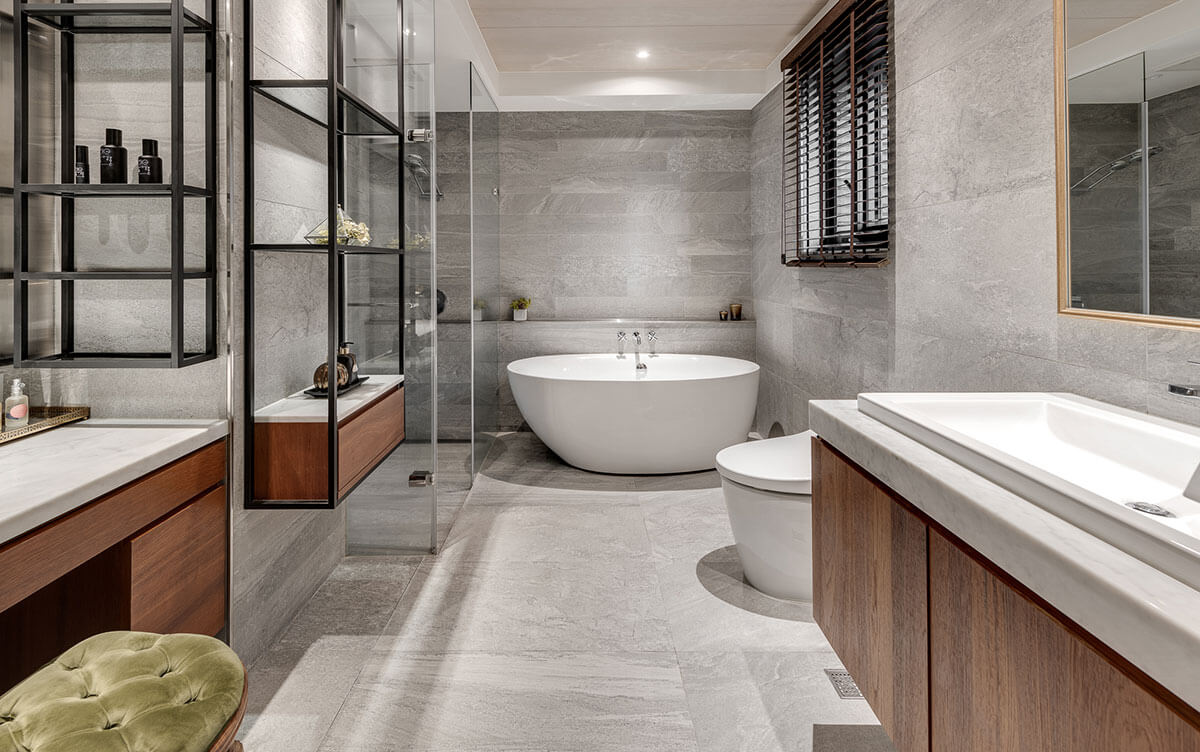 在這個空間中,使用到很多相同的元素,但我們應用了不同拼貼方式、不同比例的拿捏,達到視覺上的層次感。客廳、玄關、主臥房的地面的木紋雖然統一,但仔細看會發現尺寸上有所區分;廚房及浴室的地面與牆面也使用了同樣的手法,讓人在同與異的交織中,找到了特殊的平衡,美感在細節裡才真正得到了淬煉。
Apply several varied proportion of collage technique on same elements, to present the gradated vision. You might think that the floor wood grain pattern of the living room, foyer and the master bedroom is the same, but if you gaze cautiously, the dimension still can be distinguished. The same technique is also adopt of the kitchen and bathroom floor and wall, which makes people feel balance in the interweaving of the differences while reserving commonness. Consequently imbue the artistic sensation in the details.